Client Photos (1)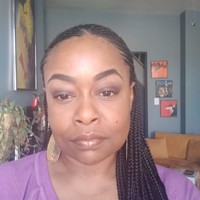 6 big Cornrows, Knot less Braids
"Amazing !!! Always a pleasure, they make sure that your hair is done the exact way you want it. This is the only place I will get my hair braided."
About FATOU:
FATOU's Location:
About FATOU:
FATOU's Location:
"They braided way too tight. It was unnecessary. I get my braids done all the time and I am noticing my edges are so thinned out, 3 weeks later. They need to do better with that.
My other complaint was I booked the appointment via the Styleseat app where my pymt method is stored, but yet, they demanded cash at checkout. Walked me to an ATM machine to get the cash. I was offended as this should have been told to me when I booked the appointment. I thought it was very unprofessional."
FATOU
: "I am sorry that you are so displeased
about the payment is on our profile that we only accept cash at this moment I'm sorry that you didn't read it and also for your hair been tight we apologize
We could have fixed it if you had expressed it while getting your hair
We most of the time customize the way we braid per client request
Again we are very sorry and we which you all the best
Thank you"
"Always does a good job."
About FATOU:
FATOU's Location:
"Faith did an awesome job, she is very attentive. I got 6 feed-ins and her services was awesome. This was my first time, and absolutely loved her. Very sweet and welcoming, I will be returning."

"I was great my hair is beautiful she is very professional"
"Love my daughter hair!!!!!"
"The ladies here always do a wonderful job"
"Faith is a very good braider and is very fast! I gave her 4 stars only because she does not know how to do a french braid. I will be returning for more."
"Always have a great experience when I go to get my hair done. This shop is a class act always! My hair always looks great and so does everyone else's that's in there for that matter. Always great communication, always great work! I can't say enough about Blue, she is amazingly fast with microbraids and they always look good! I've recommended this place to co-workers because even after two months of having micro braids they still look so good that people ask "who did your braids?" Not to mention the hair growth I've seen since going there getting my hair braiding. The entire staff is great and they service diverse hair as well. I will say too, Faith creates an environment that is welcoming for all types of people, that's supportive of people's dreams and that is kind. These are very important qualities. I always try to write a review after every visit, today is no different. Great experience as usual. Thank you Faith for communicating in a timely manner about the appointment time change because of the weather delay for schools. Thank you Blue for your amazing work and being so nice. Never disappointed!"
"Blue did it again. Head full of micro braids that look great and aren't too tight all under six hours. She's so nice and cares about your head. This is my second time with her and I'll keep going back. Not to mention, the first go around, my hair grew a lot. Great shop, professional braider and good environment plus they don't keep you in the salón all day. My girl Blue though, she's all that!"
"I really love my crochet braids and would like to thank Fatou and team for being so professional and efficient with the service I received. "
"So impressed. My appointment was confirmed twice( I booked online) and was even given the option to come in earlier, which I took. The shop was a bit difficult to find because it's in a barbershop but it was clean and quiet. My braider Blue was great. I got micro braids and she was done in 5 hours, yes I said 5 hours and they look great. She respected my time and my edges..lol. Every other time I've gotten micros at other salons they took at least 8 hours and I could always find something wrong but not this time. Blue didn't spend time on the phone or taking breaks and she respected the fact that I was tender headed too. I asked for thin areas to be covered and she did a great job at that. I brought in 6 packs of hair (4black and 2brown) she only used 2.5 packs and my hair looks full but not heavy just as requested. The clientele in this shop were wonderful ladies also, no drama going on. I also met the owner Fatouh and she was very nice. She even made sure to call a customer twice who had an appointment whose braider was running behind to let her know so she wouldn't have to come in and wait, great customer service. All in all great experience. I will return. Thank you Blue, you were awesome and so was the shop experience!"
Twists and Braids touch up
"Nice environment, cozy and quiet.and FRIENDLY."
"Love my micro braids!! Very nice environment!!"
"Fatou is an amazing stylist and amazing person!"
Stephanie E.
Dec 11, 2017
"I am new to the area and she was recommend by a coworker.
She gave me $20 off since she had me waiting.
My hair doesn't look anything like the style that we discussed. I hate my hair.
Faith has he ability to do great hair from what I've seen however I was not pleased with my hair. My Senegalese twist are too full in the back and too empty in the front. I wanted them longer than bra strap and they barely touch my strap. I showed her a picture of the girl whose hair she did earlier and told her I wanted the same. The only thing me and that girl have the same is that we both have Senegalese twist.
I will not go back because now I have to go to another hairstyle and spent more money on getting my hair redone. "
"If you're looking for a professional environment, fast braiding, and beautiful PAINLESS braids styles this is your place. "
"First time with her and she did an amazing and fast job. Highly recommended"
Rachel Lassiter R.
Jul 14, 2018
Jennifer Burwell H.
Dec 27, 2017
Mark David G.
Oct 31, 2017
"Amazing experience. I truly love my kinky twist. Thank you!"
"She did a beautiful job on my daughters conrows. Will definitely be back!!!!!!"
"it was my first time going to Fatou and Yolanda and they both did a great job! I will be back"
"I was impressed with my sew-in weave. It was my first time with a protective style, and I was nervous. I left feeling happy that I chose Fatou! She was friendly, and she made my hair look beautiful. I will return. "
"First time getting crochet braids (bought my own hair) – turned out beautifully! Quick service and will be returning."
"No pain.. (yea) She transforms you ,a new you!! She listens to client to meet their needs per their wishes.."
"Flora did a wonderful job on my crochet braids! I came in hoping for someone to get my braids right after a bad experience elsewhere (my first time getting crochet braids as an adult). Flora listened patiently and made sure I was happy every step of the way. I'll definitely be back! Also, the online scheduling is a great feature."
"New to the area n I didn't know where to go for my hair. I made the best decision. The stylists was so friendly n did an excellent job on my hair. Will definitely go back "
"Fatou was awesome she started and finished quickly. She was very professional and very customer friendly. My hair looks amazing and I will be returning for another crochet or braid install. "
Joyce Yemisi O.
Dec 26, 2016
"I got marley twists done yesterday by Faith and I absolutely love them. We started on time, and she finished fairly quickly! It's awesome not having to wait all day, and the salon is close by. I'll be back! Book your appt!!"
"FATOU is awesome!! She was on time, friendly and fast. My braids are beautiful and I've gotten so many compliments. I will recommend her to anyone who needs braiding services. She's great!!"
"I love FATOU K! Definitely book your next appointment here!"
"I love FATOU FAITH KOFFI! Definitely book your next appointment here! She did an amazing job with my hair. I have already had people ask me who did my hair. "
"I love FATOU FAITH KOFFI! I went to this shop because of the reviews I read here and I must say I will continue to go there! The place was clean and the braiders were nice and accommodating. My micro braids are nice and neat!"
Dominique M.
Oct 11, 2016
"Fatou has been doing my hair for about 8 or 9 years. She is meticulous and does the most perfect braids and twists! I'm also what some would call a demanding customer…I want what I want. Fatou has worked with me and given me what I want every time!!! She is definitely the best braider in the DMV."
"Fatou is one of the best hair stylist I've been to in Columbia. Wait time is never long and she doesn't waste time to make you look your best, all while having your hair neat and pretty at the same time. I've been coming to her from 2009 to present… Always a pleasure to have my hair done by Fatou!"
"I love my hair! Faith is professional, courteous, warm and sweet. I am thoroughly impressedby her knowledge and ability. I'll be rebooking very soon!"
"I love Fatou Koffi! I have been her customer since 2008.
Great service every time + friendly .Definitely book your next appointment here!"
"I love Fatou ! The service is great! Fatou is always flexible, kind and hard working not to mention efficient . I'm always please with the hair she does for me wether it's braids,twist or weave .I have been a customer of hers for many years:) Definitely book your next appointment here!"
"My stylist for life my daughter and I have been going to braids by faith for years, she's great, efficient, quick, affordable, understanding, pleasing, flexible, respectful and really a awesome stylist. You will not be disappointed. She loves her work and it shows thru the styles. Your braids last long and you will definitely want to go back. If your tender head she is not heavy hand nor does she pull your hair. SET YOUR APPOINTMENT TODAY!!!!"
"I started coming to Fatou Koffi in September 2013. I had never had my hair braided professionally before. Fatou made my first experience and every experience since enjoyable. I am pleased to say that my hair always looks good and feels good. Fatou is very professional and knowledgeable. Above all she is a Christian and loving person, who works in a warm and homely atmosphere.
Thank you Fatou"
"I love braids by faith because faith is very professional at what she does.
Her braids are very clean and they last for a long time .faith respect her clients and they appointments very good customer service . Call Braids By Faith
today and have your own wonderful experience ."
Fatoumata K.
Oct 11, 2016
Twists and Braids touch up
"Love my hair and I loved my experience – I will definitely be back!"
Stephanie E.
Apr 18, 2016
"I had amazing experience ! I've been searching for a shop that is professional and a very comfortable environment in this area and I have found it . I love my hair ! "
"Excellent customer service and beautiful braids. "
"She was very fast got my entire hair done in 6-7 hours and that's quick for me "
"When I used this StyleSeat system to make an appointment, I had to input my credit card information. However, once my daughter got her hair braided, I received a call at work saying that I needed to drive from DC back to MD to provide my credit card for payment. Apparently, the information I provided online was not usable (so I shouldn't have been asked for it). Then, I received a call while on the way requesting cash payment instead. I can't tell you how frustrating that was. The actual hair braiding was fine, but the administrative service was not good at all."
"My braids were very neat."
"This is the best braiding salon I've ever been too. My braids were done with patience and weren't done tight at all. It was very gentle and I did not have to take an aspirin while getting it done!!!! I will be returning! Thank you so much!!!!"
"The experience was horrible…I would not recommend anyone coming here. The professionals who worked on my hair was comtinously huffing and puffing while doing my hair meaning she didn't want to be there. Secondly the website did not advertise that you had to bring your own hair. I had to pay $35 for 8pcks of hair from the owner of the ship even though hair is sold for MUCH less. Lastly the owner was out of town and wanted customers to pay with cash. Which is an inconvience…no credit or checks could've been written out. She lied and said the machine was broken…however she just didn't want to be charged nor teach her employees how to work a credit card machine. A $160 style turned into a $200…very unsatisfied by the attitudes and the false advertisement. "
"I love my hair. I got box braids..they were super quick I started close to 8am and was out by 2:30. I would recommend this place to everyone."
Georgelle C.
Dec 22, 2014
"She was very sweet and did a great job on my hair. I will definitely go back when I want to get my hair braided again. "
Twists and Braids touch up
"The size, The skills and her, perfection."
"A lot of cellphone activity..other than that I like my hair!"
"She really took the time to understand what I wanted and took time to explain to me about what I wanted. They were very professional and friendly. I will recommend her services to my friends."